Side by Side
[
Worthwhile projects: our deals explained by the protagonists
]
Feralpi: sustainability in steel industry
30.05.2022
fruition time: 8 min
Environmental sustainability is becoming increasingly crucial for business development strategies as demonstrated by the initiatives and projects within the NRRP and the European Green New Deal.

Chief of IMI Corporate & Investment Banking Division

The Feralpi Group is increasingly oriented towards circular business models, through a development strategy that enables adaptation and mitigation of impacts.
THE BACKGROUND
The Feralpi Siderurgica Group, one of Europe's leading steel manufacturers specialising in the production of steel products for the building industry, integrates a sustainability strategy into its business plan which also includes a process designed to reduce the environmental impact of its activities with the aim of improving production and energy efficiency.

THE OBJECTIVES
The installation of a technologically advanced line at the production site in Lonato del Garda (BS) for the development of a new product that will guarantee advantages in terms of lower emissions and waste, consequently leading to process optimisation.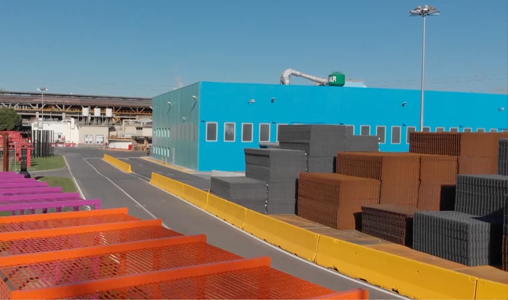 THE PROJECT
In March 2021, Intesa Sanpaolo acted as Sustainability Coordinator for Feralpi Siderurgica S.p.A., disbursing a EUR 40M financing with a 5-year maturity. With these resources, Feralpi will be able to give continuity to green investments, in line with the Group's purpose which aims to allocate resources in the interest of efficiency, circularity and digital innovation.
An Interest Rate Swap subscribed together with the financing, which represents an absolute first on the Italian market: it is an OTC derivative to hedge the interest rate risk which provides for the reduction of the fixed rate paid by the company based on the achievement of the circular economy targets set out in the financing.
KEY SUCCESS FACTORS
Solid and long-term relationships
We build a relationship of trust with clients, based on close support and listening, to guide them along their growth paths with a tailor-made and high-value service.
ESG mission
We are strongly committed to supporting the industrial transition towards ESG by guiding companies along their structural change process in order to consolidate their competitive positioning.
Product innovation
Product innovation is one of the pillars of our business, since it allows the wider application of complex strategies such as hedging strategies and their association with incentive systems that aim for excellence through the implementation of ESG policies.